I really love the Brooklyn bed from the new Target Industrial line. Swoon.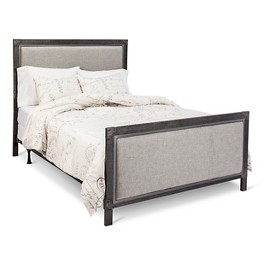 Because I am putting so much money into my house, I can't afford $500 on a bed. Plus I might not really like all that metal after a while.
I have been scouring Pinterest for a way to recreate this look with more wood and less metal. Crafty Girl over at Crafty Corner, made a tufted headboard for her son and turned the box spring into a platform bed.
I really like the style. Instead of the midcentury legs, I am thinking pipes. Also, only the frame of the headboard really fits my idea. Using this build
, I could upholster only the inside of the frame and paint the rest to look more like the Brooklyn. That would also take less padding (I have read several times that using an egg mattress is a lot cheaper). Quarter rounds, painted silver, would frame in the padded area nicely.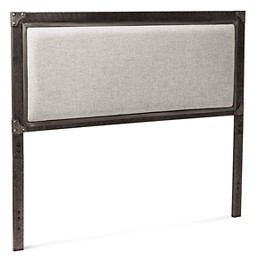 Another thought I have in this process, is to go with a built frame instead of the box spring (putting legs on a boxspring isn't always as sturdy). Sally at Mrs Fancy Pants shared a great tutorial on building a bed frame where you don't use the box spring at all.
And it uses my pipe idea for legs. And I could maybe have just a little bit more height in the legs to make it a little taller. Maybe make the end piece a little taller and make it look more like the footboard in the Brooklyn piece.
Currently, I have a fourposter bed from World Market. Though it started out as a sturdy bed, it has been taken apart, moved and put back together more times than it was probably made for. I thought my not very old mattress was already sagging, and exchanged it for a new one, but it is because of the support (lack of) from the bed. After a fix to the siderail, it creaks so much when I get in and out of bed that I worry it is going to crash to the floor on me. So bed ideas are something in the near future for me, even if I hadn't wanted them to be that near. Thank you Sally and Crafty Girl for the inspiration that I think I can use to pull off a Target hack.