I could have sworn that the nickname for Converse was Chucks. Am I wrong? Every time I use that term everyone asks me what I am talking about.
When I saw this image pinned on Pinterest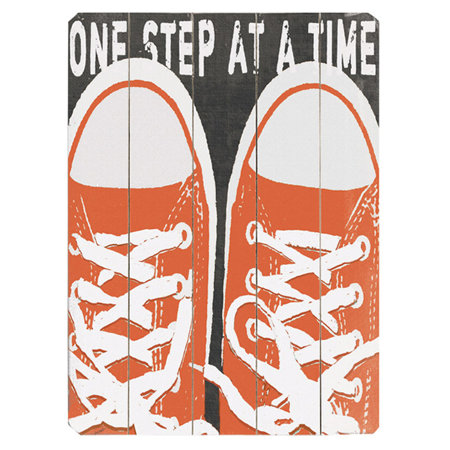 I knew I wanted to try and replicate it. I had a 20×20 canvas sitting around, so there was no need to buy wood. With 4 different paint colors, I painted a wood effect on the canvas.
I then traced a pair of my dad's shoes in the corner. I wasn't sure how I was going to get them as big as the inspiration anyway. I knew I wanted the shoes a shade of green. The painting was for my son's new bedroom, and I had already incorporated bright green into his blues in his old room. I painted the shoes and the soles and for the longest time left it unfinished because I didn't know how to do the shoes laces. Finally it dawned on me to get puffy paint and found a "writer" that had the perfect tip. I just had to go over it twice to get them to be thicker laces. Then I used a silver pen to trace on the eyelets.
Mr B had wanted the shoes to be purple, so I decided to paint in the letters purple.
I kid you not. One day Mr B comes home, after I painted the shoes but before I finished the whole thing, wearing green Chucks that Nana had just bought him. Not doing it because they matched but because they were on sale.
Once again, all these photos were taken with my iPhone. Not as good as I would have liked them to be.